Richard Bong was born on Sept. 20th 1920 in Poplar, Wisconsin. Bong's father came to the United States from Sweden at the age of seven and his mother was of Scots-English descent. Bong's interest in aviation began in 1928 when President Coolidge was vacationing near Superior and established a summer White House in the Superior High School. His mail was delivered to him daily by an airplane. Bong was fascinated. Later he recalled that the mailplane "flew right over our house and I knew then that I wanted to be a pilot." Soon he was spending countless hours building model planes. Following graduation from Superior Central High School, he entered Wisconson State Teachers College. Determined to be a pilot, he enrolled in the college's government-sponsored Civilian Pilot training program. He took flying lessons in a Piper J-3 Cub and earned his private pilot license.
After 2 1/2 years of college, he enlisted in the Army Air Corps Aviation Cadet Program in early 1941. Bong entered service at Wausau, Wisconsin on May 29, 1941, and was sent to the Rankin Aeronautical Academy, a primary flight school near Tulare, California, where he soloed in a Stearman biplane trainer on June 25, 1941. He took his basic flight training in a BT-13 at Gardner Field near Taft, California. Then he was sent to Luke Field near Phoenix, Arizona, for advanced single-engine pilot training in a AT-6 Texan. His gunnery instructor at Luke was Captain Barry Goldwater, who later said, "I taught him fighter gunnery. He was a very bright student. But the most important thing came from a P-38 check pilot who said Bong was the finest natural pilot he ever met. There was no way he could keep Bong from not getting on his tail, even though he was flying an AT-6, a very slow airplane." After he received his wings at Luke Field, Arizona on 9 January 1942, Lieutenant Bong spent three months as an instructor at Luke.
On May 6, 1942 he was transfered to Hamilton Field near San Francisco, for aerial combat training in the twin-engine, twin-tail P-38 Lightning fighter. It was at Hamilton that Bong first raised the ire and the admiration of Major General George C. Kenney, commanding General of the Fourth Air Force. The field's location resulted in some aerial antics by Bong, such as "looping the loop" around the center span of the Golden Gate Bridge in his P-38, and waving to stenographers in office buildings as he flew along Market Street. But more serious was his blowing clean wash off a clothesline in Oakland. That was the last straw for Kenney, who chewed him out and told him, "Monday morning you check this address out in Oakland and if the woman has any washing to be hung out on the line, you do it for her. Then you hang around being useful - mowing the lawn or something - and when the clothes are dry, take them off the line and bring them into the house. And don't drop any of them on the ground or you will have to wash them all over again. I want this woman to think we are good for something else besides annoying people. Now get out of here before I get mad and change my mind. That's all!" ..... National Aviation Hall of Fame.
Bong was the first fighter pilot handpicked by General George C. Kenney in the fall of 1942 for a P-38 squadron designed to strengthen his Fifth Air Force in Australia and New Guinea. In September 1942 after spending a few months as a flight instructor at the 9th Fighter Group in Australia, he was assigned to the Fifth Air Air Force in the Far Eastern theater of operations in Port Moresby, New Guinea to fly the twin-engined/twin-boomed "Lightning" fighter against the Japanese. His first engagement with the enemy came after 2 months of uneventful patrols. On December 27, 40 Japanese fighters flooded the sky over Dobodura-- within the first few minutes, Bong was separated from his squadron mates. He then dived into a gaggle of enemy planes and shot down a Val and a Zeke -- the beginning of a long string of victories. By January 1943 he was an ace, his fifth victory an Oscar over the Anon Gulf.
In April 1943, Bong was promoted to 1st Lieutenant and just a few months later to Captain. A skilled flyer, Bong was noted for his silent approaches to his airfield with both engines feathered. As he swooped over the field he would loop his P-38 and land. He claimed to have poor gunnery skills(this was far from the truth in that he was so good at gunnery that his commanding officer had him remain at Luke as an instructor for several months.) for which he compensated by closing on his targets until he was nearly touching them. After he topped Eddie Rickenbacker's WWI record of 26 kills, Bong was reassigned to training duties but he managed to bend the rules and shoot down thirteen more planes. In April 1944, Captain Bong was promoted to Major, AAF, and he continued to shoot down enemy planes. By October of 1944 he had downed his 31st plane and his reputation grew. School girls would skip rope to "How many Zeros will he get today? Let's count them up, what do you say? One, two, three...".
For his gallantry and extraordinary achievements during World War II, Major Bong was awarded -- among other decorations for valor and heroism -- the Distinguished Flying Cross with an Oak Leaf Cluster and the Air Medal with an Oak Leaf Cluster. On December 12, 1944, At age 24 and just four years after taking his first solo flight Bong was awarded the Congressional Medal of Honor, after shooting down eight enemy airplanes while flying over the Leyte area of the Philippines. Richard Bong was awarded the nation's highest honor by General Douglas MacArthur at Talcloban airfield on Leyte. The Commander of all U.S. Army units in the Far East who, after casting aside a prepared speech, said: "Major Richard Ira Bong, who has ruled the air from New Guinea to the Philippines, I now induct you into the society of the bravest of brave, the wearers of the Congressional Medal of Honor of the United States."
General Kenney pulled Bong out of combat when his score reached 40 and sent him home to "marry Marjorie and start thinking about raising a lot of towheaded Swedes." Richard and Marge Vattendahl were married February 10, 1945 in Concordia Lutheran Church in Superior, an event attended by 1,200 guests and covered by the international press. The couple honeymooned in California for several weeks where their stops included Hollywood and the Sequoia National Park.
In June 1945, Bong was assigned to the Lockheed Corporation at Burbank, California, to perform test flights on the then-troubled Lockheed P-80 Shooting Star, the plane that would take the Air Force into the jet age. Bong was intrigued by the new jet fighter which had already killed 7 previous test pilots. From July 7th to August 6th he made 11 test flights and logged over 4 hours flight time in the Shooting Star.
On August 6, 1945, Major Bong, a survivor of 200 combat missions was killed when the prototype P-80 he was testing stalled on takeoff and he bailed out at low altitude. His body, partially wrapped in the shrouds of his parachute, was found 100 feet from the plane's jet engine.
Ironically, Major Richard Bong's death shared the newspaper headlines with another earth-shattering event that same day: the Enola Gay dropped a 20-kiloton atomic bomb on Hiroshima, Japan. In ways that no one could possibly imagine at the time, Hiroshima's bombing would change the world Richard Ira Bong fought for and died for.
On 8th August 1945, he was burried in the Poplar cemetary, Poplar, Wisconsin. Today in his hometown of Poplar, a small museum honors his memory.
_________________________________________________________________________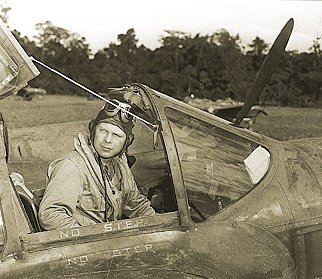 Richard Ira Bong in a P-38G Lockheed Lightning on 6 March 1943
____________________________________________________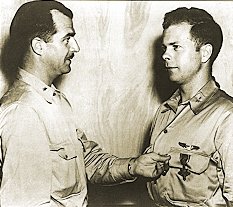 General Paul Wurtsmith, Commander of 5th Air Force Fighter Command,
presents the Distinguished Service Cross to "Dick" Bong for downing
two "Tonys" and two Zeros on 26 July 1943
________________________________________________________
Richard Bong with his beloved wife Marge (nee Vattendahl)
______________________________________________________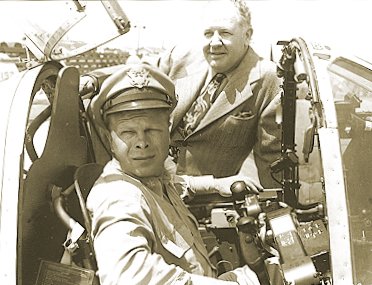 "Dick" Bong and Jimmy Mattern during a visit to a Lockheed plant in the US.
___________________________________________________________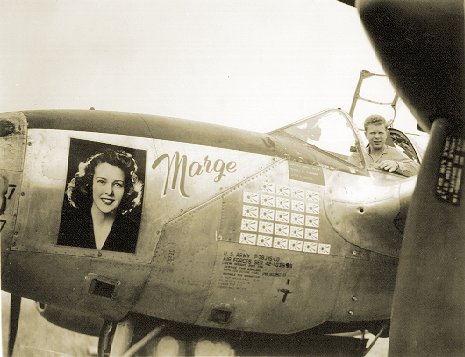 "Marge" P-38J-15-LO Lockheed Lightning
_______________________________________
Note the kills...
TALLY RECORD: 40 Confirmed, 8 Probables and 7 Damaged
DECORATIONS: Medal of Honor, Distinguished Service Cross, Silver Star with one Oak Leaf Cluster, Distinguished Flying Cross with six OLCs, Air Medal with 14 OLCs, and the Australian Distinguished Flying Cross.
___________________________________________________________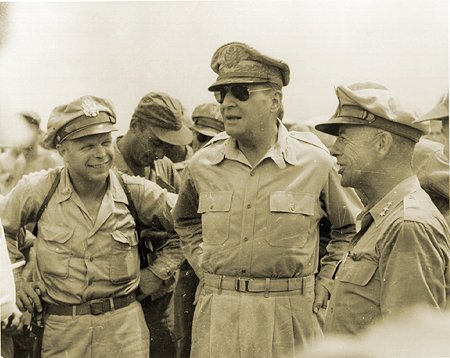 Major Bong in the Philippines with Kenney and MacArthur. Probably taken
on 12 Dec 1944 when Bong was awarded the Congressional Medal of Honour.
_______________________________________________________
The President of the United States
in the name of
The Congress
takes pleasure in presenting the
Medal of Honor
to
BONG, RICHARD I.
(Air Mission)
Rank and organization: Major, U.S. Army Air Corps. Place and date: Over Borneo and Leyte, 10 October to 15 November 1944. Entered service at: Poplar, Wis. Birth: Poplar, Wis. G.O. No.: 90, 8 December 1944.
Citation:
For conspicuous gallantry and intrepidity in action above and beyond the call of duty in the Southwest Pacific area from 10 October to 15 November 1944. Though assigned to duty as gunnery instructor and neither required nor expected to perform combat duty, Maj. Bong voluntarily and at his own urgent request engaged in repeated combat missions, including unusually hazardous sorties over Balikpapan, Borneo, and in the Leyte area of the Philippines. His aggressiveness and daring resulted in his shooting down 8 enemy airplanes during this period.
· Major Richard Ira Bong
Some Brief Facts
Growing up
· Born: Sept. 24, 1920 to Swedish immigrant parents. Bong was born in Superior and raised in Poplar, Wisconsin, the eldest of nine children.
· Education: In 1938, he entered the State Teachers College at Superior, Wis., for an engineering degree. Soon after, he signed up for the newly established Civilian Pilot Training Program.
· First solo flight in 1940, on his 20th birthday.
· Completed the required two and a half years of college in June 1941 and became a flying cadet in the U. S. Army Air Corps.
World War II
· As a 2nd Lt., Bong was among 50 hand-picked P-38 fighter pilots to assist American forces in Australia and New Guinea.
· Dec. 27, 1942: Shot down his first enemy planes.
· Ace of Aces: by fall 1943, Bong had shot down 21 enemy planes and was the ranking ace of American fighter pilots.
· "Marge": Promoted to captain, Bong came home on his first leave and met Marjorie Vattendahl while visiting Superior. When he returned for his second tour of duty, he had Marjorie's college graduation photo enlarged and affixed to the nose of his P-38. The plane became known as "Marge."
· Record-breaker: On April 12, 1944, Bong became the first American pilot to break Capt. Eddie Rickenbacker's World War I record of shooting down 26 planes.
· Pulled from combat: For his third tour of duty in September 1944, Bong was sent back as a gunnery instructor to keep him out of combat missions. (This was for his protection, because, as Ace of Aces, he was a target for the enemy. Also, if the Ace of Aces had been killed, the other pilots' morale would be devastated.)
· Back in combat: Experienced fighter pilots were needed in the South Pacific, so in October, Bong volunteered for combat.
· Dec. 12, 1944: Received the Congressional Medal of Honor, presented by Gen. Douglas MacArthur in the Philippines.
· Unbeaten record: On Dec. 17, 1944 Bong shot down his 40th enemy plane, at which point Gen. George C. Kenny immediately sent him home (Bong's record still stands).
· Dec. 29, 1944: came home after flying in 200 combat missions.
Marriage & After the War
· Wedding: In Feb. 10, 1945, Major Bong married Marjorie Vattendahl. About 1,200 guests attended the ceremony, which was covered by reporters from across the United States, the International News Service, and newsreel cameramen from several Hollywood studios.
· New assignment: After honeymooning in California, Major and Mrs. Bong reported to the Wright-Patterson Air Force Base in Dayton, Ohio. There Bong began training for his new assignment: test-piloting the Air Force's first jet, the Lockheed P-80 Shooting Star.
· On Aug. 6, 1945, at age 24, Bong was killed in Burbank, Calif., when the P-80 he was testing crashed. Bong's family was not notified before the information was released publicly, so Marge and members of his family learned of his death over the radio.